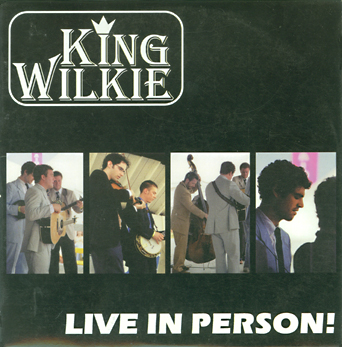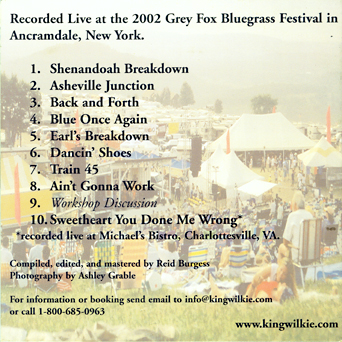 I am very excited. Today I unearthed the King Wilkie Live In Person album recorded live at the 2002 Grey Fox Bluegrass Festival in Ancramdale, NY. Harris plays on all tracks except #10, Sweetheart You Done Me Wrong, which was recorded live at Michael's Bistro in Charlottesville, VA.
Reid gave me permission to share this album with you as only 1000 were ever made.
Abe Spears – Banjo
Reid Burgess – Mandolin, Lead Vocal
Ted Pitney – Guitar, Vocals
Tim Hallett – Guitar, Vocals
Colin Maclear – Bass
Harris Wulfson – Fiddle
Please visit the King Wilkie Family Store for other fine merchandise and
http://www.kingwilkie.com/.
| | | | |
| --- | --- | --- | --- |
| | | | Download |
| 01 Shenandoah Breakdown | | 0:31 | |
| 02 Ashville Junction | | 3:54 | |
| 03 Back and Forth | | 3:21 | |
| 04 Blue Once Again | | 2:42 | |
| 05 Earl's Breakdown | | 2:30 | |
| 06 Dancin' Shoes | | 5:04 | |
| 07 Train 45 | | 3:23 | |
| 08 Ain't Gonna Work | | 2:14 | |
| 09 (Workshop Discussion) | | 6:13 | |
| 10 Sweetheart You Done Me Wrong | | 2:41 | |