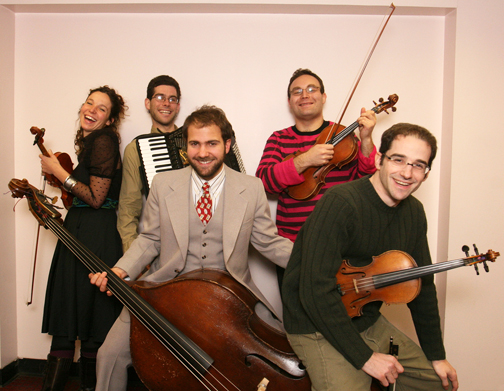 Harris Wulfson with the World on a String Band at the Ukrainian National Home restaurant, December 6, 2007, New York City. I love this photo and these amazingly talented people!
left to right: Sarah Alden, Patrick Farrell, Benjy Fox-Rosen, Ljova, Harris Wulfson, Photographed by Anna Rozenblat.
This was one of the last bands Harris played with. The last time I saw him, he told me he couldn't wait for Sarah to get back from tour so they could all get together and play! I took the audio clips from Flickr and added the fades to make the clips less choppy. If anyone has any recordings, let me know. They may not exist.
I've included the links to the Flickr movie clips below as well as the mp3 clip I made of their audio.
01.flikr clip 1
Freddy's Backroom, 2007. Here is the moment during the jam where they played "world on a string" ! Harris played the ukulele for this one.
02.flikr clip 2
Freddy's Backroom, 2007. World on a String played and then there was this fantastic jam. Pure joy. A magical night. The movie is really dark but we can see (and hear!) Harris behind Patrick.
03.flikr clip 3
At Banjo Jim's, June 08, 2007.
04.flikr clip 4
At Banjo Jim's, June 08, 2007.