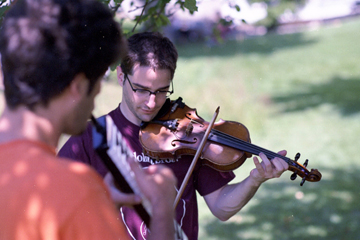 I'm glad you'll get to hear a snippet of our singalong at Spring Hill — those days seem impossibly happy now. Do you know Harris and Mark Yokoyama played my wedding song? Later that night the electricity went out and we had no music; Harris stepped in and kept the party going with his fiddling.
–Michelle Tsai
Javier Garcia recorded this on his video camera. Michelle posted a shorter, cleaner version on flickr.
Who else was at Spring Hill? And what year was this?