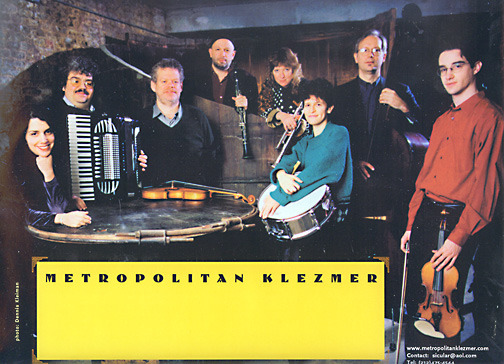 Metropolitan Klezmer between sets at Tonic, early 1999: Debby Karpel, Ismail Butera, Michael Hess, Steve Elson, Pam Fleming, Eve Sicular, Dave Hofstra and Harris Wulfson in the wine cellar on the Lower East Side. photo by Dennis Kleiman
Metropolitan Klezmer's Eve Sicular has kindly allowed me to share some music tracks from two CDs on which Harris played:
Yiddish For Travelers, 1997
Harris performs as guest violinist on tracks 1, 2, 3, 5, 6, 7, 12, and 13 (5 & 6 below)
and
Mosaic Persuasion, 2000
Harris performs as guest violinist on tracks 9 and 15

With Metropolitan Klezmer
Remembering Harris 7.31.08
Our dear musician comrade and friend, Harris Wulfson, died suddenly last week. We remember him fondly, for his sweetness with the violin and all else. His intellect and humor were tremendous yet unassuming. He had a great smile, endless enthusiasm, and an easy sense of irony. And he just loved music.
Harris had a deep devotion to Yidishkayt, and also applied his talents to his many other interests, such as bluegrass, funk, rap, new and electronic music of types I am at a loss to describe. He could play le jazz hot as well as Irish tunes, Yiddish swing or Bulgarian 11/4, and imbue it all with gorgeous, fun spirit. His gifts could also be heard through mandolin, accordion, guitar, and however else he expressed his natural musicality.
Many of our New York-area fans may remember Harris as our genial guest artist and outstanding soloist on Metropolitan Klezmer shows at Tonic, Makor, Fez, Cornelia Street Cafe, and others; he also appeared as a guest Klezbian on occasion (I will soon post pictures just found again from Harris on an outdoor Isle of Klezbos show in front of St Mark's Church in 1999). We even created a New Year's Eve klezmer band once at Caravan of Dreams. His most recent public performance with us was at Nuyorican Poets Cafe last year, a special Isle of Klezbos show; we also enjoyed performing together for recent weddings in Manhattan and verdant settings upstate. If memory serves, he also performed in our accordionist Ismail Butera's project Sharqija, playing Music of the Silk Road.
Harris had a special ear for music of Eastern Europe, and called certain parts of that region the Klez Belt (as one of his friends posted this week). Anyone who has listened to our first two CDs Yiddish For Travelers and Mosaic Persuasion has heard Harris' violin stylings on several tracks where he was a featured guest. It was a joy to mix studio sessions he had recorded, every take was a fresh delight. In the MP cover art, he is the soulful young fiddler in the red shirt all the way to the right side of the Metropolitan Klezmer band photo. This 1999 picture is by Dennis Kleiman.
Harris was also the person who first set us up with a website, which he could casually encode in a few minutes during early dot com days. His own creative adventures took him in so many directions, he leaves remarkable memories for us all. He was also a deeply principled, dapper, occasionally yet adorably spacey mentsh who was constantly open to learning.
To learn more about Harris, and hear his very moving and innovative original compositions, here is his own website. (He attended graduate studies at Cal Arts as well as CUNY; one email to me included a p.s. reading: "Dr. Harris eventually.")
He has left us much too soon, but we are grateful for having known him. It is still very hard to believe he will not be here to play with us next time. We miss him deeply and send his family wishes for strength and peace. May his memory continue for a blessing.
All best,
~Eve for Metropolitan Klezmer and Isle of Klezbos